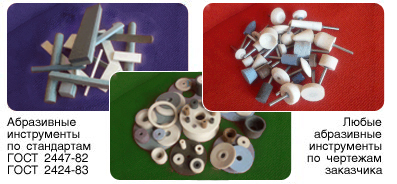 The "Abraziv" enterprise makes abrasive instruments and offers grinding bars, heads and wheels on the ceramic bunch (GOST 2456-82, GOST 2447-82, GOST 2424-83, OST 2I70-8-87) made of white elektrolytically produced corundum (24A, 25A), normal (14A), silicon carbide green (63), black (54C), diameter from 3 to 80 mm, of every profile and typical caliber of various granularity, hardness and structure. Grinding heads are delivered on mandrels and without them.

Working out of the mix formulation and technology of making of abrasives belongs to the scientists of the South-Ural State University in return for imported analogue. The technology secures high quality of our abrasive instrument and also stability of their characteristics, possibility of optimization conformably to working conditions.

An abrasive instrument is used for grinding of products made of alloy and carbon steel, after annealing and hardening, made of pig iron and non-ferrous alloy.

The enterprise makes any abrasive instrument by customer s drawing and also impregnates an abrasive instrument by sulphur, it secures fine grinding of the products made of construction, tool steel and heat-resistant alloy.

The abrasive instruments are used for following operations in industry:
precise grinding of holes
internal and face grinding of grooves, recesses
sharpening and charge of various cutting instruments
dressing of the weld seams
removal of the rust and barbs
processing of the stamps and fixed moulds.

The abrasive instruments are used for benches and hand- grinding machines.

On our side you can get information about our enterprise and the abrasive instruments on the ceramic base.

ATTENTION! You have a possibility to make a claim for the abrasive instruments of our enterprise . The specially worked out program lets to do it quickly and correctly. All you need is to enter the part "Orders" and to follow the program s instructions. Our enterprise is always ready for the manual beneficial co-operating of long duration with you.